Faye Pattison Physiotherapy are here to help your child every step of the way. Our paediatric team believe in making physiotherapy treatments fun and interactive, to help each individual reach their maximum potential.
Our specialist Paediatric Physiotherapists are here to care for and promote the health and wellbeing of your children from babies (from birth) to young teens.
At Faye Pattison Physiotherapy, our Chelmsford based Paediatric Physiotherapists have the additional knowledge and expertise for the treatment and care of babies, children and young teens from birth to 14 years old. Our Paediatric physiotherapists promote the health and wellbeing of children; dealing with child development and specific childhood disabilities.
Depending on your problem or injury, your physiotherapist may recommend various specialists within our practice, or refer you to a more suitable specialist outside our clinic if deemed necessary. Our in-house team includes soft tissue therapists, massage therapists, nutritional therapists, woman's health specialists, sports massage therapists and biomechanical specialists (who prescribe custom orthotics) who are all available to compliment the individual needs of our clients.
What to Expect in A Child Physiotherapist Session
On your initial assessment with our specially trained and friendly therapist, we will ask you several questions about your child, their development and your current concerns. Following this, your therapist will carry out a physical examination. Depending on the age of your child, this is often by observing how your child plays and moves. From this, your therapist will analyse the assessment findings and provide you with recommendations and a plan. It is often necessary for the child/young person to be undressed for a physical examination; you may wish to bring shorts and a vest. Your therapist will use a variety of informal and formal assessment tools depending on how your child presents and the specific reason you are seeking our expertise.
Below is an example of some of the conditions that we have treated at our clinic but not limited to so please feel free to contact the clinic if you have any questions or want to discuss if Paediatric Physiotherapy could help your child.
How to Know If Your Child Needs Physiotherapy
A Paediatric physiotherapist will recommend physical therapy for a child if they:
Fail to meet developmental milestones during the first year of their life
Favour one side of the body and/or tilt their head to one side only
Have poor posture
Have been diagnosed with neuromuscular disorders such as cerebral palsy or torticollis
Have floppy and/or stiff muscle tone
Have excessive or limited joint mobility
Have difficulties with balance and coordination
Whilst these are common signs to look out for, it's important that you speak to a baby physiotherapist in Chelmsford at our Clinic if you have any questions or concerns about your little one. A physiotherapist at Faye Pattison Physiotherapy will be able to carry out a series of non-invasive tests to form a physiotherapy plan that will help to develop their movement.
What Kind of Exercises and Tasks Happen in Child Physio?
The exercises and tasks that take place in a child and baby physio session will depend on their age, disorder or disability. The following common exercises that we may add to a bespoke physiotherapy plan can include:
Exercise ball training for crawling development and strength support
Gentle massaging, muscle kneading and stretching
Head control exercises
Head control exercises
Adaptive equipment training
Hot and cold compression on the affected joints and muscles
Assisted flexibility and balance exercises
How Will My Child Benefit from Paediatric Physiotherapy?
There are a multitude of reasons as to why you child may be experience developmental delay, such as injury to the brain or an orthopaedic or neurological problem. Depending on the individual, they may be having problems with their posture, mobility, walking, balance and function.
Our team of friendly and caring child physiotherapists will be on hand to train the large muscles in the body, helping to increase strength in the legs, arms and core. Our gentle exercises will also help to increase body control and help to develop better coordination, strength, balance and flexibility in joints and muscles.
The Conditions Our Paediatric Physiotherapists Treat and Help With:
Conditions from birth
Developmental Delay
Delayed gross motor milestones (rolling/crawling/walking)
Balance
Co-ordination
Core stability
Gait Abnormalities/concerns
Assessment and advice
reassurance re toe-walking
Knock knees
Bow legs Postural advice and re-education
Musculoskeletal conditions
Sports injuries
Sprains
Osgood-Schlatter's Disease
Sever's Disease
Back Pain/postural advice
Hypermobility Syndrome
Orthopaedic
Perthes
Rehabilitation Post Fracture
Rehabilitation post surgery
Rheumatological Conditions
Juvenile Arthritis
Complex Regional Pain syndrome
Chronic Fatigue Syndrome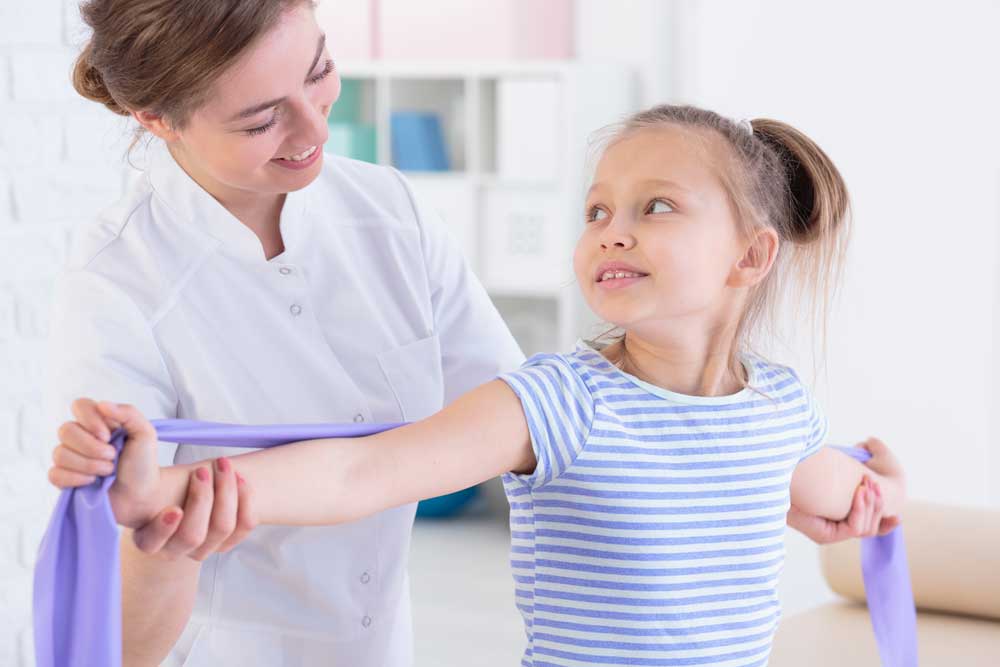 FAQs
What is Paediatric physio?
Paediatric Physiotherapy is the treatment and care of babies, children and young people from birth to 14 years. Paediatric Physiotherapists promote the health and wellbeing of children and have additional knowledge and experience of child development and of childhood disabilities.
What is the benefit of seeing a specialist paediatric physiotherapist?
Paediatric physiotherapists undergo advanced training to qualify as a paediatric physiotherapist which the 'standard' physiotherapy qualification does not cover and have an in depth understanding of:
child development
childhood diseases and conditions that may impact on development and well being
therapeutic interventions that enable and optimise development and well being
the need to place the child at the centre of planning
the impact that having a sick or disabled child has on family life
how to keep children safe
how to ensure that children and young people make choices
Does my child need a paediatric physiotherapist?
It is important to remember that babies and children have very different needs to adults. They also suffer from different conditions and syndromes. By choosing a specialist physiotherapist, you can be confident in the knowledge that your child's therapist will have extensive experience in dealing with these differences and in working together with families. They are best placed to assess the child using appropriate techniques, such as using play to observe their movements, and parents/carers will always be involved throughout any assessment and treatment.
Can my child give consent for their own treatment?
Only the parent/legal guardian of the child can provide consent and the Physiotherapist must be advised in advance if someone else e.g. a grandparent, will be bringing the child to an appointment.
Any child over the age of 14 who is deemed competent by the Physiotherapist can provide and withdraw consent to treatment. Any child who is under 16 must be accompanied to all appointments.
Do I need to attend the appointment with my child?
Any child who is under 16 must be accompanied to all appointments.
Can I bring my other children to the appointment?
We recommend that other children are not brought to the appointment as they can often become bored however we understand that this is not always possible so will always be welcome. Young children cannot be left on their own in the waiting room and must be brought into the treatment room for their own safety. The physiotherapist cannot be responsible for any child, other than the child being treated, at any time.
Do I need to bring anything?
Please feel free to bring any favourite toys etc to Physiotherapy sessions. We have a selection of toys here but anything they particularly like can be very useful to motivate children to partake in the assessment and treatment sessions. It can also make them feel more secure in a new environment.
What happens in the initial and follow up treatment sessions and how long do they last?
The assessment and treatment of children is very different to adults. It can sometimes take longer to thoroughly assess a complex issue; however some conditions such as intoeing can be assessed very quickly. For this reason, the length of initial appointments for children can vary from 30-60mins depending of the nature of the problem. A free telephone consultation with the Paediatric Physiotherapist is available to all parents/carers to discuss the child's individual need and an agreement will be made about the length of time needed.
The initial appointment will include a discussion between the Physiotherapist, parents and the child of their current difficulties, any past medical problems and depending on the nature of the problem, their early development and birth.
A physical assessment will then be completed of the child which may include range of movement, their muscle strength and their functional abilities. Depending on the age of the child, the assessment will be tailored to make it as fun and enjoyable for the child as possible.
What should my child wear?
Your child can wear whatever they are comfortable in for the discussion part of the session, however we do request that they bring shorts and/or a vest to wear so that we are able to see the area of the body we are assessing for the physical assessment. For babies, it can be helpful to assess in their nappies. You will always be present during any periods of time when your child may be partially undressed and we will endeavour to make you and your child as comfortable as possible at all times.
As discussed in some of the above FAQ's, some paediatric conditions need longer to assess than others so please feel free to call, we can advise how long the initial appointment will be prior to the appointment and see our price list for further details.
The average course of treatment is really dependent and unique to the individual however we can give you an estimate once we have a full understanding of your child's needs.
Will the treatment my child receives hurt?
We will always aim to make your child's experience as comfortable as possible, however, under certain circumstances, more intense movements, pressure and treatment techniques may be required. You will be forewarned and at any time can opt to cease treatment if it is too uncomfortable for your child. If you have any queries regarding treatment techniques, please give us a call.
What happens if paediatric physiotherapy can't help my child?
If your condition is not improving after a certain number of sessions deemed acceptable by your therapist, we will refer you to your G.P. for further investigations such as an X-Ray, MRI, blood tests etc. We work very closely with some of the best consultants, GP's and surgeons in the area so we can always help to put you in front of the correct professional and help with your condition.