Meet our Wonderful Team
Faye Pattison
Clinical Director & Consultant Physiotherapist
MSc Sports & Exercise Medicine, BSc hons Physiotherapy, HCPC, CSP, AACP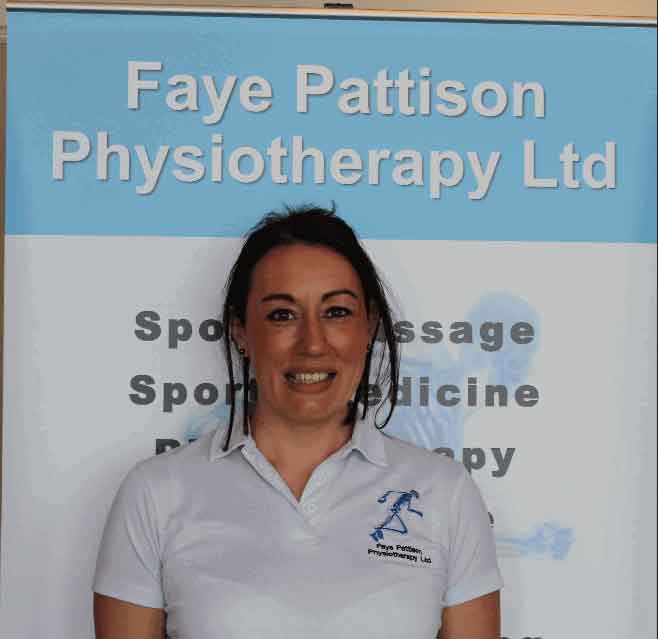 Faye Pattison qualified in 2006 at the University of East London, where she did an honours degree in Physiotherapy. She progressed further to became qualified in 2008 to work in the United States of America. Faye has successfully passed her Master's in Sports and Exercise Medicine at Queen Mary's University of London. Faye is a dedicated and motivated practitioner, she will always go the extra mile for her patients and will use her own time to progress and develop her skill and knowledge base, by regularly attending course's, working with consultants in all specialties within Essex and the South East of England, and keeps up to date with the latest's evidence based literature to ensure that her patients are treated in the most effective, efficient, professional, informative and fun manner.
Faye has a strong interest in treating sports injuries, ranging from the elite athlete to the weekend warrior, however she thoroughly enjoys treating the general public with everyday niggles.
more
Faye also believes that the majority of all dysfunctions of everyday living, develop within the human body are due to a bio-mechanical imbalance which can be easily corrected with a thorough assessment and rehabilitative treatment plan and of course respects the injuries that are caused from a traumatic / sporting injury.
In more recent years, Faye was appointed to work at the Olympic and Paralympics games 2012, along with being selected to be published in the official souvenir program of the 2012 games to represent the physiotherapy un-sung hero team. Faye is regularly interviewed for her professional opinion and has made a number of appearances recently live on BBC Essex radio.
less
David Hancock
Senior Physiotherapist
MSc Physiotherapy, BSc Hons Sports & Exercise Science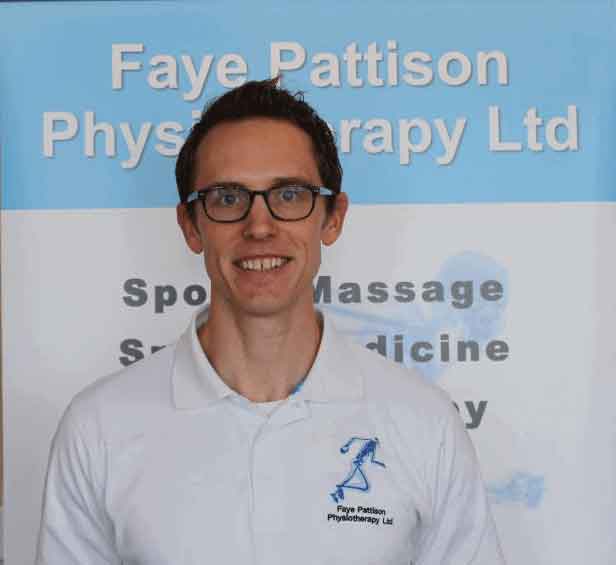 Qualifications:
2005 BSc sports and Exercise Science 1st class
2007 MSc physiotherapy distinction
2015 PG Certificate Advanced physiotherapy
Work experience:
8 years as qualified physiotherapist spending time working in both NHS and private practise including local hospitals in Essex. He has spent 6 years as a qualified specialist MSK physiotherapist including.
more
Sporting Interests:
David is a keen cyclist and golfer where you will often find him out on a Sunday ride with Chelmer cycling club.
less
Hayley Foster
Senior Physiotherapist
MSc Physiotherapy, BSc Hons Sports & Exercise Science, AACP, CAUK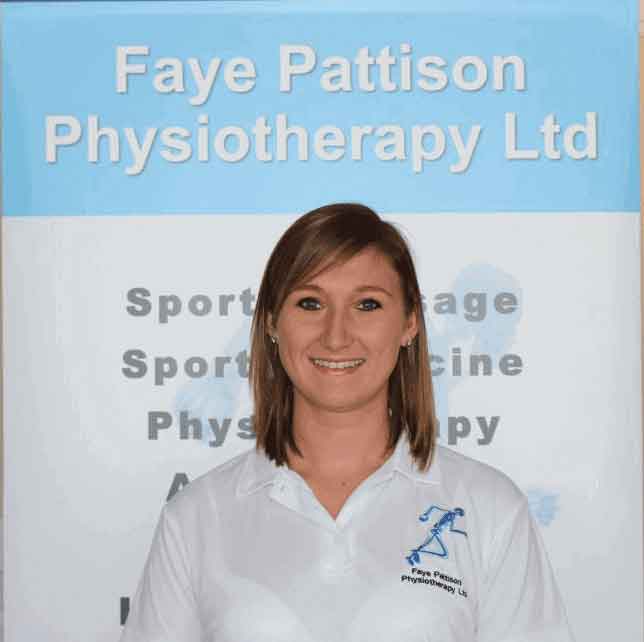 Hayley is a valued member of the team with qualifications and experience across a wide range of therapies.Hayley is a fully qualified physiotherapist and acupuncturist, but since returning from an extended honeymoon travelling around the world she has added qualifications as a Dry Needling Practitioner and Cosmetic Facial Enhancement Acupuncturist (CAUK).
Hayley played international volleyball as a junior, in recent years she is a member of a local tennis club and has a keen interest in cycling. As a keen sportswoman from early childhood, she grew a strong interest in the treatment of musculoskeletal injuries in whatever form they might take.
more
In 2009 Hayley achieved an honours degree in Sport and Exercise Science from Loughborough University and during her time at Loughborough gained distinction in a Sports Massage Diploma.
Upon qualifying with a Master's degree in Physiotherapy from the University of Essexin 2011 she spent a season with Colchester United Football Club for the Female Centre of Excellence working with players of all ages. She also spent 2 years rotating within the NHS in a variety of areas including Musculoskeletal Out-patients, Orthopaedics,Neurology, Respiratory and Burns & Plastics.
In 2014, Hayley built upon her existing skill set by becoming a member of the Acupuncture Association of Chartered Physiotherapists (AACP) and qualifying as an acupuncturist.
Whilst building her knowledge she became a more senior member of the team with the NHS trust, she elected to specialise on Sports and Orthopaedic injuries for a year before specialising for the past few years as a senior Musculoskeletal Physiotherapist.
For the past three years Hayley has worked privately at Faye Pattison Physiotherapy to further her knowledge of musculoskeletal injuries. Today she works closely with Faye and local consultants purely within the private sector to ensure clients receive the best possible treatment. Her experience as a practitioner has grown her appreciation and understanding for all forms of injuries and ailments which she enjoys treating on a daily basis.
Hayley has recently completed a Cosmetic Facial Enhancement Acupuncture and Micro Needling Therapy (Collagen Induction Therapy) with Paul Adkins (Founder of Cosmetic Acupuncture). Combined with several years of Acupuncture experience she is now able to offer an alternative natural / holistic anti-ageing treatment that aims to significantly improve the appearance of fine lines and wrinkles, skin firmness, acne scarring and stretch marks.
less
Madeleine Stalley
Specialist Paediatric Physiotherapist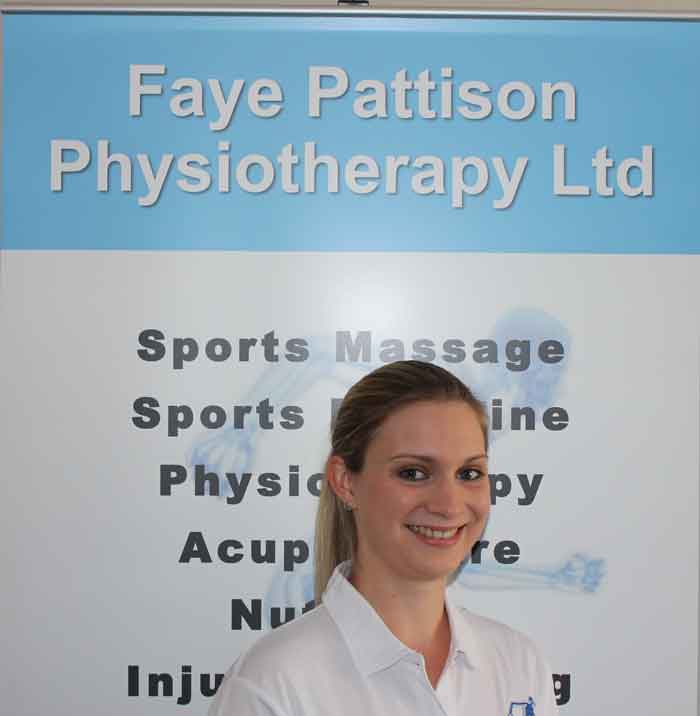 Madeleine qualified from the University of the West of England in 2009 and began working for Medway Maritime Hospital in Kent where she completed a wide range of junior grade rotations including surgery, vascular & amputees and orthopaedics. In 2011 Madeleine gained a senior position at the St Andrews Burns and Plastics Centre at Broomfield Hospital. Here she divided her time between both the adult and children's service and decided to specialise in paediatrics full time.
Since early 2014 Madeleine worked as a specialist paediatric physiotherapist for North East London NHS Trust where she treated children and young adults from 0-19 years of age with a range of needs.
more
She has experience in paediatric musculoskeletal conditions, orthopaedics, complex needs, developmental delay and has also led oncology clinics, helping children who have had chemotherapy to regain their function.
Madeleine has recently completed a course in orthopaedic management of children with neurological conditions. In November 2015 Madeleine gained the opportunity to lead the acute Paediatrics Service at Basildon Hospital specialising in inpatient care for children with both medical and surgical admissions. She left this role in August 2016 to have her son. In addition to her NHS roles, Madeleine has worked in private practice since June 2015 specialising in hydrotherapy and children with musculoskeletal conditions.
less
Mr David Dixon SENr
Performance Nutritionist
BSc (Hons) in Sport Science, MSc in Sport and Exercise Psychology, PG Cert in Sport and Exercise Nutrition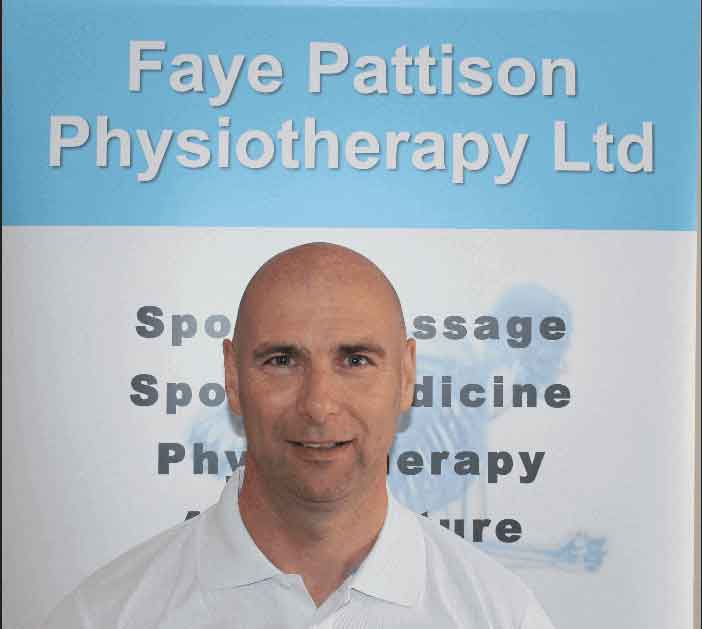 I have been working within the sport, health and fitness industry for a number of years, both as a sports person, and more recently as a Sport Nutritionist/Sport Scientist.
I hold a BSc (Hons) in Sport Science, an MSc in Sport and Exercise Psychology and a PG Cert in Sport and Exercise Nutrition. I am also a Registrant of the Sport and Exercise Nutrition Register (SENr), a register held by the British Dietetics Association of competent people to advise people involved in Sport and Exercise of their nutritional needs.
more
I have experience of working in individual and team sports and have had success in helping athletes make weight for their sport, fuel themselves for ultra-endurance events and I am currently working with professional athletes from football, athletics, judo, boxing, basketball and futsal. I was also part of an amzing challenge last year with Faye Pattison Physiotherapy Ltd to help raise money for children with cancer charity helping Dave Sissens run 13 marathons back to back in just over 2 weeks starting with the Paris marathon and ending with the London marathon while running every mile in between! For more information of this amazing challenge, please visit sissens.com
From 2016 I will be able to offer Sports Nutrition advice and diet analysis through Faye Pattison Physiotherapy Ltd. Click here for more information & pricing.
less