There are many different types of massages; each one has unique techniques of application and health benefits. Below we have outlined the different types of massage Chelmsford treatments and how they could benefit your body.
Deep Tissue Massage
A deep tissue massage helps to soothe stiff, tight and aching muscles which helps to relive pain and tension in the body. The deep pressure used in a deep tissue massage is mixed with a range of pressures and speeds to help release chronic muscle tension.
Patients often benefit from relief from daily stresses on the body especially head and neck pain from sitting at a desk for long hours; which is unfortunately the way of the world these days!
Shiatsu Massage
Shiatsu massage is the oldest massage form that has originated from Japan. In this massage therapy, it uses finger pressure, elbows and feet to massage the body.
The idea of shiatsu massage is to maintain the free flow of energy in the body. The pain in the body may be due to imbalances of positive and negative energy or due to block in the energy flow.
Shiatsu massage help release blocked energy flow and balances the energy system which helps to normalize the functions all the organs and prevent diseases.
Thai Massage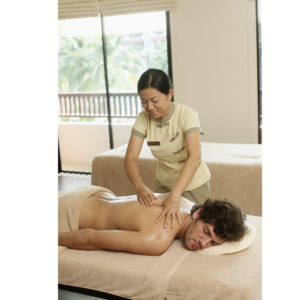 Thai massage was brought to Thailand from India during ancient times. In this massage therapy, it includes long stretches starting from foot to head. The body is stretched up in yoga-like pose which helps work along the energy channellings in the body. Thai massage is also known as Thai yoga massage.
The long stretches help release muscle tension, tone up muscles, improves muscle flexibility and help relax your body.
Swedish Massage
Swedish massage is the western style massage therapy which consists of a series of techniques. It consists of slow gliding strokes, lifting, and compression of muscles, muscle pounding and hacking using hands and fingers.
Swedish massage aims to relieve stress and body tension.
Sports Massage
Sports massage therapy is a term, particularly used to treat and prevent sports injuries. It definitely is not just for the sporting athlete!
It is done in three phases: before the sporting event, during the event, and after the event. A sports massage before the event is to warm up the muscles, to prepare for the event. A massage during the event is performed to improve flexibility and mobility of muscles and joints for high performance whereas after event massage is basically to cool down, to let muscles relax and to flush out toxins that have accumulated in the muscles.
Hot Stone Massage
A hot stone massage consists of normal river stones that are of different sizes. It is cleaned and boiled to a required temperature of the body. It is applied on the body parts where the pain spots are. For general body relaxation, the hot stones are placed along the spine till the buttock's region. The hot stone slowly heats the skin and then the deeper structures that relax the muscles underneath.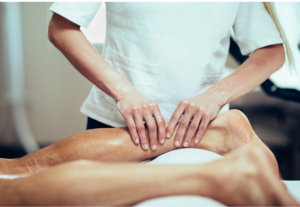 Massage Therapy to Help Every Body
All forms of massage therapy are beneficial for health and general well-being, but each individual may have their own preference. So, it is important for a Massage Therapist to know and have all the skills to tailor the massage to suite your needs.
Our team have undergone different courses for the different types of massage, so that we can provide any type according to our patients. Come visit our clinic and enjoy a massage that best suits you!